Kanye West And Chaney Jones Reportedly Broken Up..  Celebrating Kanye's 45th birthday on Wednesday, Jones shared a TikTok montage of herself and Ye to her Instagram Stories, complete with a declaration of affection. "Happy birthday baby 🖤 I love youuuuu," she wrote.
Advertisement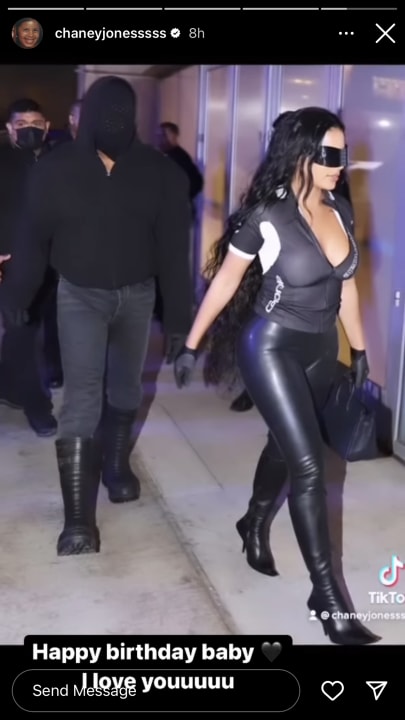 The clip is set to Alicia Keys' "Show Me Love," including the lines, "This is not the season for nobody else but us/I always get wrapped up in you, baby, I'm in love/We gon' get this lovin' like we never done it."
While a source told Page Six on Tuesday that Yeezy and Chaney's relationship got "choppy" after a May getaway in Tokyo, the insider also acknowledged, "You know how things are. Tomorrow they might be posted together again."
Kanye West and Chaney Jones have allegedly split, with TMZ citing sources saying the couple broke up following a trip to Japan.
Advertisement
Jones and Ye started dating in February, after West's breakup with Julia Fox. The model—who's also the COO of a behavioral health organization and has frequently been dubbed a "Kim Kardashian lookalike"—was spotted with the creative a few times out and about, including at basketball games. Ye and Fox had parted ways around Valentine's Day.
Page Six notes that Jones recently removed images of Kanye from her Instagram account amid breakup rumors. The pair still follow each other on the platform.
Back in March, Jones toon to Instagram to dispel rumors and share some more information about herself, seemingly as Ye fans began to flock to her page. On her IG Stories that day, Jones shared that she's mixed with Black and white ancestry, is studying for her masters with a 4.0 GPA, was born in Delaware, and has never had surgery on her face.
Not much else is known about Jones, but rumors did begin circulating earlier this year that she got her then-boyfriend's name—legally changed name to Ye in October—tattooed on her wrist. The news began surfacing after Pete Davidson, boyfriend of Ye's ex-wife Kim Kardashian, got ink reading "My girl is a lawyer," along with a chest branding of Kim's name.
Advertisement

..

Advertisement