Uyajola99: Woman discovers she is also being cheated on after accompanying her sister.. Uyajola99 is a show on Moja Love hosted by ex convict and rapper Jub Jub. It is about finding out if people are cheating on their spouses and more often than not, they are! This week took the drama to a whole different level.
There was a double explosion of cheating and it backfired for a woman trying to support her sister.
A lady wrote to the show to get clarity on whether or not her boyfriend was cheating. When it was clarified that he was, she brought her sister along for support. What happened next was quite shocking to viewers. The sister's boyfriend was there and cheating too!
Imagine trying to be a source of support only to discover you are being deceived as well? The chaos that ensued was very deserved. It just became so unbearable that even Jub Jub couldn't calm them down and he tried numerous times.
People were surprised about this turn of events and took to Twitter to share.
One user wrote, "Imagine accompanying your sister on #Uyajola99 only to catch your man also cheating while he is chilling with your cheating sister'sboyfriend. Yoh modimo😩🥺#Uyajola99"
While another user wrote, "So the other girl went there to support her sister only to find out both their men are cheating? 😭😭😭#Uyajola99"
A final user wrote, "The irony of Taniel writing in for herself and bringing her sister as backup only for the sister to have been cheated on. Yoh #Uyajola99 is unmatched man."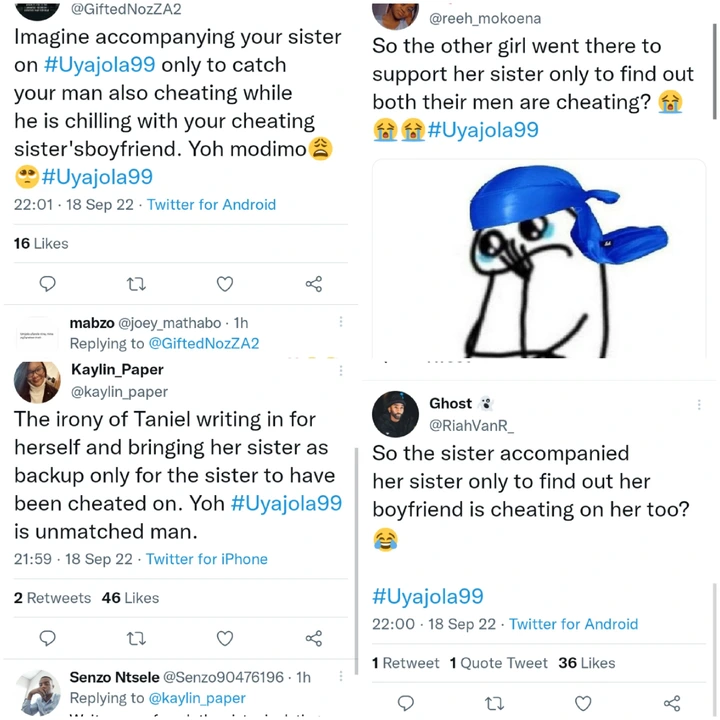 This case was so bizarre and the entire episode was so loud. I can understand being upset but we could barely understand what was going on in the epsiode. I felt bad for the sisters though, discovering that your partners are being unfaithful at the same time can't be easy